Save on these titles!

Deal lasts from
Jan. 18 at 12:00 AM - Jan. 31 at 11:59 PM (PST)
*Check each title's page for eligible chapters.

A man that normally would be discriminated against reigns as an elite...
Takaba is an office worker who finds a job in a first-class company, in search of a new beginning. However, as soon as he joins, he learns the secret of his direct boss Karasuma: he has a predisposition to seduce people and stir up their sexual desire. Karasuma uses his own body as a weapon to move up in the company! Takaba is disgusted to see his boss opening his legs to horny men every night, but now it looks like Karasuma's got Takaba in his sights...?!
An Alpha who dislikes Omegas & an Omega who seduces Alphas - A bewitching Omegaverse story by genius mangaka Keri Kusabi!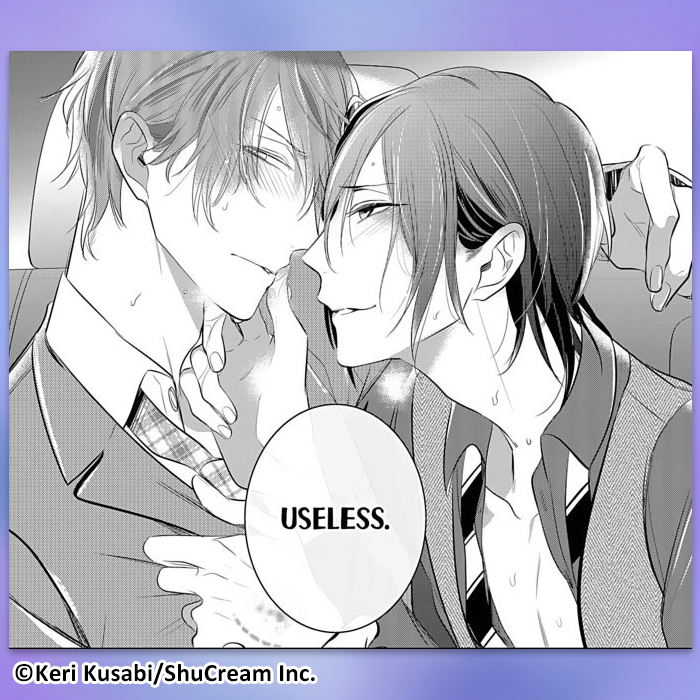 [Chapters 5, 9 and 15 include MangaPlaza limited bonus page.]
A Beta who wanted to protect an Omega and an Omega betrayed by a Beta - The long-awaited sequel to the brilliant Omegaverse story by genius mangaka Keri Kusabi!!
A new graduate, Sasabe, is assigned to Utou, who works for a major advertising agency and takes good care of by his subordinates. Even though the newcomer is cheeky, overly ambitious and shows a bad attitude right away, Utou feels that he can't leave him alone. He soon finds out Sasabe's secret: he has a predisposition to seduce people and stir up their sexual desire.
Betrayed by his best friends, oppressed by his parents... Sasabe just wants to get out of a life of suffering. He tries to hide his discriminated Omega status, and wants to move up relying only on his talent. Utou keeps watching over him, even helping him to relieve his pain when he goes on heat.
But, his past inability to protect someone who was dear to him makes him hesitate to get close to Sasabe. In the meantime, unbeknown to them, the higher-ups have dirty plans for Sasabe...
[Chapter 6 includes MangaPlaza limited bonus page.]
"Be nice to the one you love!"
"You're straight. I can't win against women."
Leo is a host, but he can't forget Takahiro - a male prostitute who initiated him to anal sex - and now he can't have sex with women anymore because of him.
He begs Takahiro to sleep with him again, and they start living together as an extension of being friends with benefits - every day is a two-people orgy!
Just when Leo starts thinking he may be falling in love, one of his best customers asks him to sleep with her.
Takahiro catches him in the act and loses his cool, angrily screwing him right in front of his customer...?!
"I can't believe I wanna be messed up even more... This can't be my body!!" In an unexpected turn of events, a delinquent named Rintaro is transported to another world. Then, all of a sudden, his body starts burning up inside...!? Rintaro is bewildered when Varuna, a beastman with piercing eyes, appears before him. "I'm going to help your body relax." The hands stroking his burning skin are gentle, but the kiss that entwines their tongues is so tantalizing that there's no way he can resist...!! The Alpha beast king who's in love and the stupid yet straightforward delinquent Omega, the king's adoration doesn't stop! An Omegaverse BL story.about being reborn in a different world.
[Chapter 9 includes MangaPlaza limited bonus page.]
Super gifted up-and-coming author Ichika Yuno's debut manga!
"I'll be by your side forever."
"You're a cruel brat."
Elva is a warrior priest whose life is eroded every time he fights against monsters coming from the dark sea.
When he learns this, boy Alto is enraged and vows to stay by his side to look for a way to save him.
After eight years, Alto has grown into a fearless young man. He still hides in his heart a feeling of love that has slowly grown stronger in the days they spent together...
Meanwhile, Elva, who seemed to have only a few years left, is showing signs of recovery while spending time with Alto...?
The long-awaited first volume of the fantasy romance between a loyal, caring young man and a cold warrior who doesn't know how to love.
"Your nipples are perfect..." Sai is a college student who can't find a part-time job to pay his bills. One day, he becomes so hungry he collapses in the middle of the street!! Waking up, he finds himself in the Kousaka Clinic, which is owned by an ultra-hot doctor. "Not only did that doctor carry me here, he's also giving me a free examination! How nice of him...!" Is how it's supposed to be, but, "W-why are you touching my nipples!?" With Dr. Kousaka feeling him up with his long fingers, Sai starts feeling good down there, too. Is... Is this really a medical examination??? Fetishes come out full-force in this love story between a friendly college student and a doctor who loves nipples.