Eeek! Who will she end up with?! ♡
College student Kaho has been smitten with up-and-coming novelist Tomoki, who is also her adoptive brother, for as long as she can remember. But, not wanting to ruin her existing relationship with him, she kept her feelings hidden and moved out to live alone. However, due to an unexpected mishap, she ends up moving back in with Tomoki at home - and realizes being at his side as a "sister" isn't enough. Kaho has just reaffirmed her love, but then it turns out another person is already staying at the house! And not only does this Atsufumi notice how she feels about Tomoki, but his condition to keep her secret is: "be my girlfriend"?! Adoptive siblings + the brother's friend - it's an evergrowing chain of unrequited love in this housemate love triangle!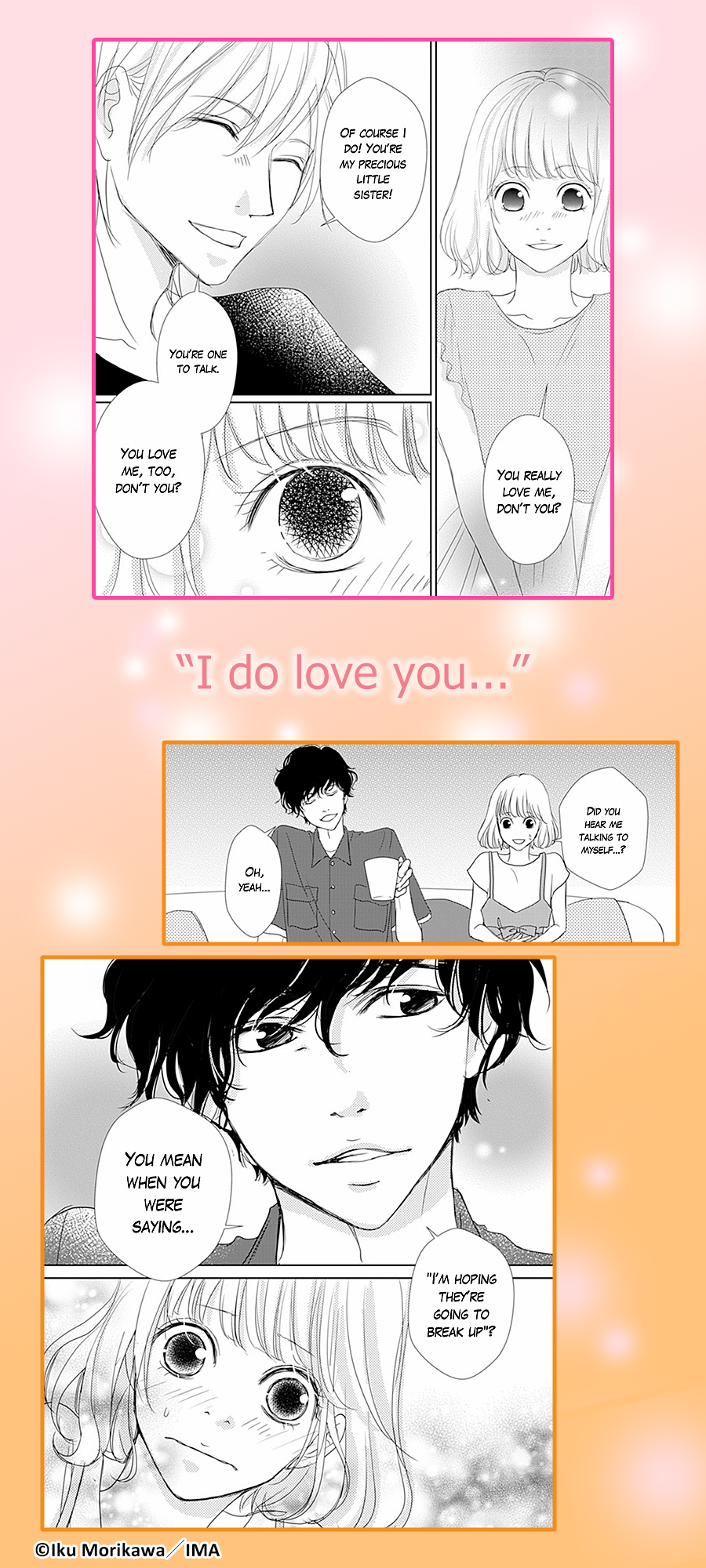 Kaho, who lost her parents at a young age, was taken in and raised by her parents' friends. And so their son Tomoki, who she'd been smitten with since forever, became her "step-brother."
Gosh, it's so heartbreaking seeing her hide her feelings so she can protect their sibling relationship! But it seems like there are complex emotions within kind Tomoki's heart, too...
Their relationship begins to change when Tomoki's friend Atsufumi begins living with them and discovers Kaho's feelings...!

Their unrequited feelings are all so well depicted that it's almost impossible to put this story down!
From high school to college, from college into the working world - although my life had never been spectacular, the journey had always been smooth sailing... Except when it came to men. So when I found myself an engaged woman at age 29, I felt a huge weight lifted off my shoulders. My dream of getting married before turning 30 was going to be realized! And that's when... I met him.
After getting away from her hometown - and her delinquent brother who basically ran the place - Yui is living it up at university. There, she falls for a cool, handsome (same difference!) Prince Charming in glasses who is the total opposite of her idiot brother, but unexpectedly her prince's friend is a delinquent!? On top of that, he's always getting in her way!! Just as she thinks it's all over for her, in more ways than one, she discovers that her prince in glasses lives in the apartment next door!?
Love triangles to spice up the romance with a pinch of suspense
"Why don't I take Sou's place?" - That day in the winter of our last year of junior high, the day Sou died, I sealed all my feelings away inside my heart. It was always the three of us - Sou, Keito, and me - but now there's an empty space where Sou used to be. Except, now we've met him: Sou's twin brother, Shun. His face and voice, like perfect copies of Sou's, shake up my heart and weaken the seal. Please, don't stare at me with Sou's eyes. Please, don't call out to me with his voice. Don't say that nonsense about taking his place, and then kiss me just like he used to......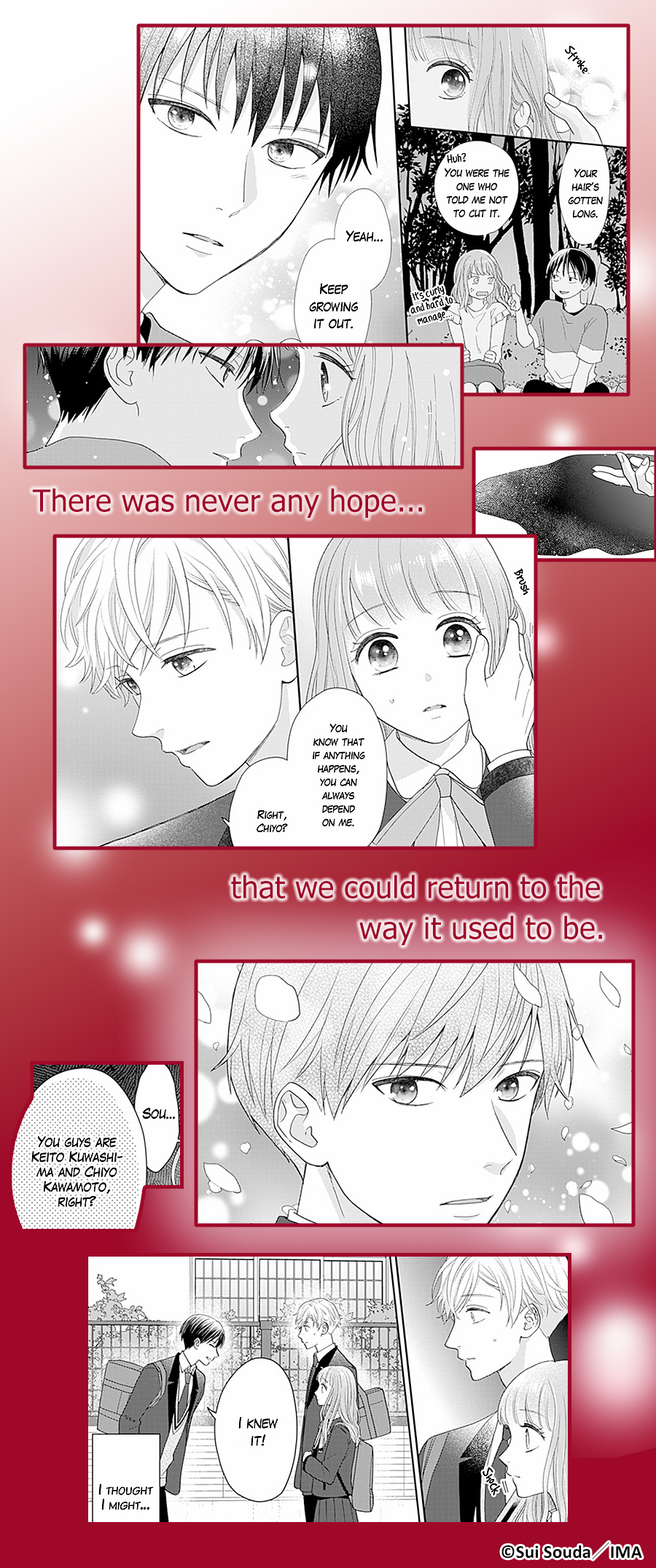 If you think this will be your typical love triangle romance, you're sorely mistaken!
Chiyo, Keito, and Sou were all close friends, but everything changes when Sou suddenly passes away.
The blend of romance and mystery is so amazing that it will keep you wanting more!
Who is this person suddenly claiming to be Sou's twin brother...?
Gah, it's so heart-wrenching seeing their feelings go unreciprocated... but I can't stop reading!
A picture of love hell can be found here!! Akari, a full-time housewife who lives peacefully with her husband, is suddenly reunited with her ex-boyfriend from high school, Arashi. After that strange reunion in 10 years, Akari's ordinary life starts to crumble...! Outbursts of love, twisted desires, unpleasant memories... Husband, wife, and her ex-boyfriend. Who's the craziest? A crazy love triangle mystery!!